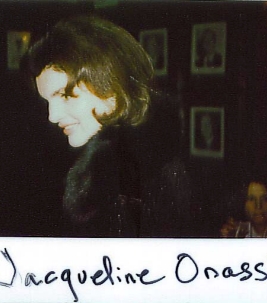 Jacqueline Onassis



Rare Autographed Candids Of Celebrities
Shape The Dazzling Face Of A Century

HE sexy sixties, swinging seventies and dissipated eighties brought the glamorous superstars of Hollywood and Vine to Babylon by the Hudson. Tim Boxer was on the scene to interview and photograph the icons of an era of sex, drugs and rock and roll. As assistant and ghostwriter to fabled New York Post gossip columnist Earl Wilson, Tim covered the glitterati at film premieres, Broadway opening nights and a sophisticated nightclub landscape that is now history.

Tim was armed with a notebook and two cameras. With his Nikon he photographed the major showbiz names, which were published in Time, Newsweek, People, Life, and books and magazines around the globe. He captured Mafioso Joe Gallo cutting his wedding cake, a world exclusive shot that appeared on the front page of The New York Times, New York Post and Daily News—on the same day!

With a Polaroid he made instant candids of celebrities. And all readily signed their one-of-a-kind portraits.

Among the autographed photographs in this unique collection are such extraordinary legends as Andy Warhol, Jacqueline Onassis, Elizabeth Taylor, Truman Capote, Leonard Bernstein, Gloria Swanson, Sammy Davis Jr., Telly Savalas, George Burns, Gig Young, Henny Youngman, Mamie Van Doren, Ginger Rogers, Richard Boone, Richard Burton, Yitzhak Rabin, Martha Graham, Bob Hope, Pearl Bailey, Otto Preminger, Cliff Robertson, Gregory Peck and Arthur Miller.

Getty Images distributes Tim Boxer's celebrity photos to publications worldwide. Martin Scorsese has included several photographs by Tim Boxer in his documentary, George Harrison: Living in the Material World, that was shown in two parts on HBO in October 2011.
Copyright © by Tim Boxer. All rights reserved.