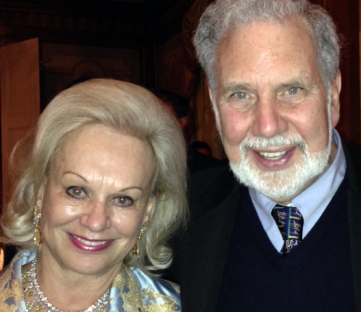 Naomi Haas-Perlman and John Sexton
OPEN UNIVERSITY
Ingeborg Rennert Honors
NYU President Sexton
PHOTOS AND TEXT BY TIM BOXER
NGEBORG and Ira Leon Rennert have long been on the cutting edge of Jewish philanthropy. Recently Ingeborg, president of the American Friends of the Open University of Israel, hosted a gala celebration at the Pierre Hotel in New York. She presented the group's Yigal Alon Award to New York University president John Sexton. The award is named in memory of a commander of the Palmach, an IDF general, who became a founder of Open University, and died in 1980.
(Sexton has retired after serving as NYU president for 13 years, and previously as dean of NYU Law School for 14 years.)
The evening's keynote speaker was Israel's new ambassador to the United Nations, Danny Alon. "I've been at the UN for three weeks," he said, "and already it feels like three months."
He said that although "France is our friend," their proposal to station observers on the Temple Mount to monitor recent protests is unacceptable. "Let me be clear. There will be no international observers on the Temple Mount."
Ido Aharoni, completing his sixth year as Israel's representative in New York, plans to retire in summer 2016. "I am the longest serving consul general," he said.
I can always count on Ido for humor. This time he didn't bring any jokes to share. He said he had to be brief as he was on his way to a third event on his evening schedule: "Jerry Seinfeld will be there and I don't want to be late."
Naomi Hass-Perlman, the group's chair, presented the Tzedek Award to Linda and Michael G. Jesselson for their support of Open U.