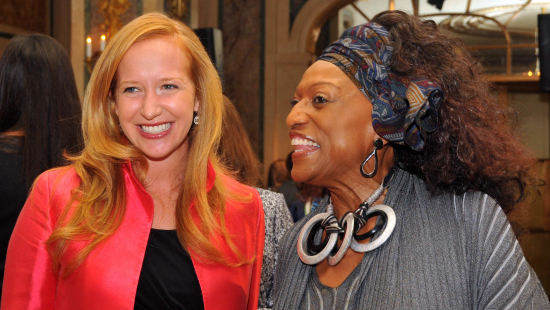 Jessye Norman and Gloria Steinem
S.L.E. LUPUS FOUNDATION

Gloria Steinem Hailed As Hero
For Ladies Who Lunch At The Plaza
STORY BY NINA BOXER
PHOTOS BY TIM BOXER
HE feminist icon Gloria Steinem, longtime champion of women's rights and equality, was a special guest at the S.L.E. Lupus Foundation's fifth annual New York Bag Ladies Luncheon.
More than 300 ladies who lunch gathered at New York's Plaza Hotel to bid in a silent auction of 150 exquisite handbags from 50 top designers in support of the foundation's mission to further lupus science and support services for an autoimmune disease that affects primarily women.
Matilda Raffa Cuomo, former first lady of New York State, and opera legend Jessye Norman, served as honorary co-chairs of the luncheon. Ms. Norman said she's been attending this function since its inception.
Jamie Peretz, who served as luncheon co-chair along with Brett Heyman, Carol Weisman, Cindy Saxman Margulies, Linda M. Plattus and Diane Plaut, said she's "going slightly off script and kicking off my shoes. My feet are so swollen! I was diagnosed with lupus as a college freshman. While others were busy figuring out what parties to attend or sororities to join, I was too tired. All I wanted to do is get back to my dorm and my bed. I also suffer from kidney disease and last year I even had a stroke."
Alexandra Wilkis Wilson was ecstatic: "I met one of my childhood heroes at this luncheon five years ago, Madonna, and today I met another childhood hero, Gloria Steinem."
Ms. Wilson and a colleague, Alexis Maybank, founded the Gilt Groupe, a one-billion-dollar startup that brings sample sales online. They described their viral phenomenon in By Invitation Only: How We Built Gilt and Changed the Way Millions Shop. Every lady at the fundraiser got a copy of this amazing book, even if she didn't buy a bag.
"They told me to talk about fashion and lupus," Ms. Wilson said. "How do I do that?"
The entrepreneur found a way: "Lupus is a young woman's disease. I have three people in my life who are near and dear to me and suffer from lupus. They look just as beautiful as ever, but I know on the inside they are going through something very terrible. Feeling good and looking good are important to everyone. People with a chronic disease, like lupus, probably want that even more. Fashion has an uplifting feeling."
She added that entrepreneurs usually have three things—hope, faith and vision. "I see these traits in my friends with lupus. I see these traits as a gift."
With that Ms. Wilson offered some top fashion tips for spring 2013: black and white, graphic prints, floral prints, bright colors, leather, statement sunglasses, stripes, polka dots and sporty dresses.