MARCH OF DIMES
Culinary masters
make it sublime
By CATHERINE SAXTON
ANIEL BOULUD is considered one of America's greatest chefs. When he joined a group of French and American-French chefs to bring us the glories of Provence for a March of Dimes benefit, the evening was sublime.
It was held at the University Club, that venerable (what used to be men's only) club on Fifth Avenue and 54th Street.
This is one of those glorious buildings that hasn't given away any of its history or architectural grandeur. It's two-story ceilings dominate, and the old world charm is present the moment you step off the elevator.
The reception and dinner were held on the dining room floor (the seventh). You know male history was made in that room over and over and over again.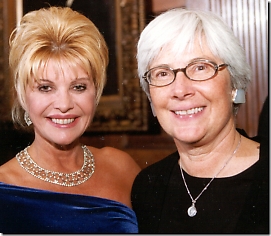 Ivana Trump and March of Dimes national
president Dr. Jennifer Howse
For sure, you could never replicate these fantastic old buildings in the modern era because they'd cost a fortune to build. From the moment you stepped off the elevator the champagne and hors d'oeuvres flowed freely. So, let me take you through the menu, and I promise you, if you ever get the opportunity to stop by one of these chef's kitchens, run don't walk, you'll be in for a fantastic culinary experience.
In New York you can visit Jean-Michel Bergougnoux at L'Absinthe. Christian Delouvrier holds fort at Lespinasse (in the St. Regis Hotel). Jean-Louis Dumonet is at Palladin. Alain Sailhac teaches divinely at the French Culinary Institute. Jean-Yves Schillinger is at Destinee and Jean-Yves Piquet hangs up his toque at the University Club.

New York City first lady Donna Hanover
and chef Daniel Boulud
Delta Airlines gets the big wet kiss for flying in Gerard Clo of L'Escale, Christian Etienne of Christian Etienne, Michel Meissonier of Ermitage Meissonier and Francis Rob of Le Mas du Soleil, all in the divine Provence region of France.
Ivana Trump, who had co-chaired one of the original Gourmet Galas some 13 years ago, lent her distinctive brand of glamour to the evening.
First Lady of New York Donna Hanover (Giuliani) flew in from her Vagina Monologues performance. Sheila and Danny Rosenblum were generous hosts and gathered a group of glamorous friends to celebrate.
Donna Hanover with Daniel and Sheila Rosenblum
Philanthropist Denise Rich, famed fur fashion designer Dennis Basso, Nurit Kahane, Michel and Frank Rella (really working hard on Denise's G&P Foundation Gala on November 29), Isabelle Leeds, longtime leader of the MOD. Next year we'll be on a trip to Lyon and its gustatory delights. Plan early, you'll love it.