Guest services manager Huza
Radzi B Mohamad and chef Otto
Goh, present Le Cirque desserts to
communications director Rosemary
Wee in Shangri-La's Restaurant
Lafite.
FROM JUNGLE TO MEGACITIES
Malaysia Straddles
Two Worlds as It
Leaps into the Future
Text and photos by TIM BOXER

found Malaysia undergoing a continual transformation, from Asiatic primitive to contemporary to futuristic mega modern. Shining new apartment complexes are springing up all across the landscape. Vast shopping malls rival the ornate mosques and temples in grandeur.
Rest assured, Prime Minister Dr. Mahathir Mohamad's administration is making sure the ecological balance of the tropics is scrupulously maintained. He is adhering to a policy of protecting the rainforests even as resorts and vacation playgrounds encroach on available land.
I was impressed with the high quality of lodging everywhere I went. In the capital city of Kuala Lumpur, I stayed at the luxuriously appointed Shangri-La Hotel. Here, too, progress was evident.
Rosemary Wee, hotel communications director, told me about Sirio Maccione coming here with two chefs to introduce the sumptuous desserts from his world famed Le Cirque 2000 in New York.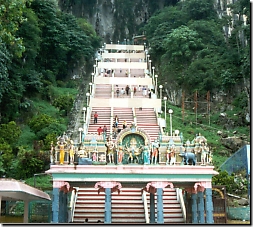 Up the steps to the Batu Caves.
"My restaurant manager and chef went to New York for two months of training at Le Cirque," she said.
Now Restaurant Lafite at Shangri-La offers Le Cirque's sinfully rich delicacies for its many distinguished guests, who have included Al Gore, Nancy Reagan, George Schultz and Margaret Thatcher.
"Last night," Wee said, "we hosted the Scorpions, the heavy metal group from Germany."
Lafite is now closed, while Adam Tihany, who designed Le Cirque and Spagos, weaves his magic to redesign the restaurant. Lafite is scheduled to reopen in March after a stupendous remake.
"Actually," Wee said, "the entire hotel will undergo a major renovation. The 720 rooms will be reduced to 660, with more suites added while smaller rooms are converted to self-contained long-stay apartments."
Can't wait to come back next spring to relish the enhancements.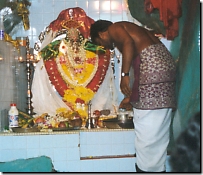 Hindu worship inside the
Batu Caves.
Sightseeing Malaysia
BEST way to sightsee is with a local guide. I can recommend Mohammad Finar B. Abu Samah (Phone 03-971 2903). He came with a driver and car to show me the sights and offer historical and cultural insight. He's quite knowledgeable.
He took me to the Syarikat East Coast Handicraft Batik Factory where I saw how they made high quality shirts, scarves and wraparound skirts (kebaya) all with unique designs, no two alike.
Next we went to Royal Selangor, the largest pewter factory in the world, where I saw them making goblets, decanters, coffee sets, vases and letter openers – all lead free. It was explained that pewter is made of 97 percent refined tin strengthened with antimony and copper.
We visited a traditional Malay house, which is made of timber and rests on stilts. That's for three reasons: protection from animals, protection from floods in the rainy season, and for ventilation.
We stopped to view Tugu Negara (National Monument), dedicated to the 13,000 who fell fighting the communist insurgency of 1948-60. The monument depicts seven soldiers holding up the flag. If it looks familiar, remember that it was created by Felix de Weldon, the American artist who sculpted the flag-raising Iwo Jima monument in Washington.
I saw the Church of St. Mary, oldest Anglican church in the city, from 1885. I also saw Thean Hou, a Taoist temple dedicated to Kuan Yin, the goddess of mercy.

Traditional Malay house on stilts.
Monkeys and idols
THE Batu Caves, north of the city, was indeed an interesting experience. Discovered by an American naturalist, the caves now hold Hindu shrines.
To get into the main limestone cave chamber, I walked up 272 wooden steps. I didn't see the bats – they were in a separate cave – but several monkeys roamed at will, to the delight of camera toting tourists.
Indian worshipers came in bearing trays of food for the gods. Bare-chested priests attended to the rituals while people, in bare feet, prostrated themselves before the image of an elephant that had been discovered in the wall of the cave. Other idols were placed around the cave.
A couple days later I saw busloads of schoolchildren coming to the Batu Caves to seek divine blessings for their exams. About 350,000 students from around the country converged on the caves for this annual ceremony that lasts five hours.
Gold and diamonds
We made a pit stop at Habib Jewels. This is one place you should definitely not miss, especially during Mega Sale months (December, March, August) when prices of their 22k gold, diamonds and pearls are 40 percent below regular prices.
Meer Sadik Habib, managing director and son of the founder, escorted us on a tour of his jewelry factory and elegant showroom.

Meer Sadik Habib with his gold replica of
Petronas Towers valued at $270,000.
An elegant piece in their collection is an exquisite pearl necklace crafted from 37 almost perfectly round golden cultured South Sea pearls, among the rarest in the world.
This being the Mega Sale month of August, I couldn't pass up a bargain, so I asked to see some trinkets suitable for my Nina. He showed me pink sapphire and diamond matching earrings and necklace set.
How much? For the earrings $3500, necklace $38,500, and the brooch goes for a paltry $17,200.
Habib showed me his pride and joy, a gold replica of the Petronas Twin Towers, the world's highest building. The bejeweled miniature is crafted from 6 kg of yellow gold, 1,206 diamonds, 121 blue topaz, 20 pink sapphires, pearls and a lemon quartz set on a slab of malachite. It took nine months and is valued at $270,000.
I settled on a 24k gold necklace for Nina. It set me back only $260. Now that's a bargain – thanks to Mega Sale Carnival!
Learning local lingo
BY the way, although most Malaysians speak English, you can easily acclimate yourself to the Malay language by reading public signs. That's how I learned this limited Malay vocabulary:
ekspres
teksi
bas sekolah
otomatik
kompleks
plaza tol
polis
imigresen
farmasi
See how easy it is to learn the local lingo?