Villas at Kingston Plantation.
KINGSTON PLANTATION
A Most Luxurious Resort
That's Family Friendly
By TIM BOXER
YRTLE BEACH, SC, is a vacation destination that appeals to families and children in the summer, businessmen and conventions in the fall and winter, and golfers in the spring. The abundance of activities, attractions, theme restaurants, theaters and nightspots – not to mention more than 100 golf courses – is simply overwhelming.
The Grand Strand – the entertainment strip – is dotted with such outposts as Planet Hollywood, Official All-Star Café and Nascar Café. Some of the attractions include Alligator Adventure and Ripley's Aquarium.
Dixie Stampede and Medieval Times present dinner shows. Several theaters offer shows, such as Spirit of the Dance, at the Palace Theatre.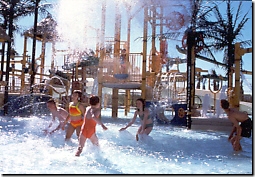 Children's pool where all the fun begins.
This is a spectacular Irish dance and song show, in the footsteps of Riverdance, which had me and the rest of the audience on our toes for a well-earned standing ovation.
Of course, there are shopping malls and brand-name factory outlets.
A unique experience is the Collectors Café on Restaurant Row. It's a Mediterranean restaurant, Euro-style coffee house, and fine arts gallery under one roof. Everything's for sale – what's on the menu and on the wall. Well worth a visit to view the artwork and taste the food.
If you want a most enjoyable holiday in Myrtle Beach, the only place I'd recommend for lodging is the Kingston Plantation, a truly family friendly resort.
This all-suite resort consists of four multi-story buildings surrounded by swimming pools, children's activity areas, Jacuzzis, palm trees and the Atlantic Ocean lapping at your feet.
I joined half a dozen colleagues for a great weekend at the 21-story Embassy Suites Hotel.
Bob Nesoff of New Jersey said he lost 10 pounds. How? "I broke my leg and couldn't get off the couch to go to the fridge."
He was with his wife Sandy "who has a black belt in shopping."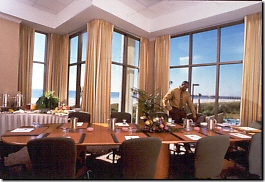 Conference room above the beach (for
serious sessions).
The towering Embassy Suites Hotel, part of the Hilton chain, has two restaurants. Azalea's Café presents a themed all-you-can-eat buffet Wednesday through Saturday. The newly opened Omaha Steakhouse offers a 12-ounce filet mignon for $29.95, and a 24-ounce porterhouse steak for $34.95, with the requisite appetizers, salads and sides.
The other three high-rises feature two- and three-bedroom condos, all with full kitchens, outdoor swimming pools and parking spaces.
The lakeside villas feature one-, two- and three-bedrooms with wooded and lake views. The townhouses have two-bedroom, bi-level accommodations. There's parking in front of each unit.
The resort is so immense it's like vacationing in a beautiful luxurious hamlet.
The Sport & Health Club boasts state-of-the-art fitness equipment. There's an aerobics studio, lap pool, racquetball courts, sauna and Jacuzzi, outdoor Olympic swimming pool, nine lighted tennis courts and pro shop.
The club distributes a monthly health newsletter, which I found extremely helpful. The current sheet offers tips on how to catch the sun and be safe:
| | |
| --- | --- |
| | On sun-proofing your skin: avoid reflective surfaces, such as water, sand and concrete, which can reflect up to 85 percent of the sun's damaging rays. |
| | During hot weather, when you can lose a quart or more of fluids an hour, drinking water helps prevent cramping, nausea and heat exhaustion. |
| | You don't have to get all your water from a glass. Supplement your intake by eating more fruits, many of which are 80-95 percent water. |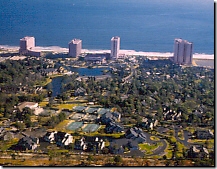 Kingston Plantation: a world to enjoy.
Until Aug. 18, there's a special rate of $220 per night for a two-bedroom villa. Oceanfront hotel suites run $249-349 until the same date, after which prices decrease until next June. Oceanview suites are slightly less.
After the summer, when parents go back to work and the kids return to school, much of the hotel business is made up of business conferences.
With 17 meeting rooms all on one floor, and ballroom banquet capacities from 40 to 1,400, the conference center is always busy.
For reservations or to plan a meeting, call 843 449-0006 or visit www.kingstonplantation.com.