Myer Berlow of AOL
Is A-OK with Ohel
By TIM BOXER
YER BERLOW, president of Interactive Marketing at America Online, was thrilled to be guest of honor at the 31st annual dinner of Ohel Children's Home and Family Services at the New York Hilton.
Rachelle Friedman, co-owner of J&R Music & Computer World, the mammoth superstore in downtown Manhattan, congratulated Berlow for single handedly bringing in $750,000, "a record for an individual honoree."
Berlow dismissed the laudatory remarks: "You've brought me a worthy cause and did me a favor, for I don't have to worry anymore what I should do in life."
But in accepting the award he quipped, "Anyone who knows me knows I possess no humility, false or otherwise."
Berlow told how his great great grandfather left a small town in Lithuania to come to America. All 500 Jews in that town were quite devout, immersed in Torah and Talmud all day long.
"I like to think he left so he wouldn't have to do that day after day," Berlow chuckled.

Howard Jonas of IDT and Myer Berlow
of AOL.
It was fortunate that his ancestor did leave. In 1941 the Germans and Lithuanians murdered every person there. "There was no one left," Berlow said sadly, reflecting on what might have been his fate.
His father, a pediatrician in Milwaukee, was a role model for good works and charity. Sometimes he wouldn't send out bills; when he did, he wouldn't press for payment.
Mother once said, "You charged only $2.50 for an ear exam?"
"I only looked at one ear," the father replied.
Myer Berlow (from left), Rachelle Friedman
and husband Joe Friedman.
also honored were Debbie and Howard Jonas of IDT, a pioneer of Internet technology including Net2Phone; Theresa Bischoff, president of NYU/Mt. Sinai Hospitals, and Richard Kessel, chairman of Long Island Power Authority.
Debbie praised Ohel for establishing residences in Brooklyn, and soon in Hewlett and Woodmere on Long Island, to care for children who are abandoned, orphaned or coping with mental illness and substance abuse.
The evening, under the direction of dinner chairman Chaim Kaminetzky and co-chairmen Howard Millendorf and Dr. Thomas Riles, raised a total of $1.5 million for an organization that provides residential care and operates summer camps for children and adults with psychiatric disabilities, provides shelter programs for victims of abuse, and offers training for professionals in the mental health, social and human services fields. Truly a worthy cause.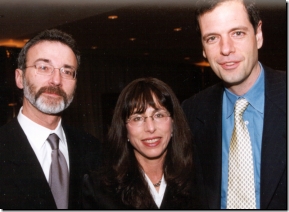 Ohel ceo David Mandel (from left), Debbie and
Howard Jonas.
Ohel is under the caring guidance of president Moishe Hellman, board chairman Morris J. Zakheim, and chief executive officer David Mandel.
Debbie said she was in her car waiting for a friend at Port Authority in Manhattan when she saw a severely handicapped person trying to cross 42nd Street. Another man, crossing in the opposite direction, turned around and extended his arm and guided the unfortunate man safely to the other side.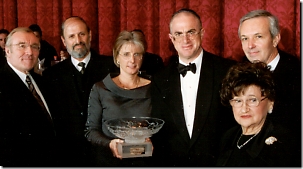 Ohel president Moishe Hellman (from left), chairman
Morris J. Zakheim, honoree Theresa Bischoff,
Thomas Tisch, dinner co-chairman Dr. Tom Riles
and Miriam Lubling.
She questioned the tragedy of the man's life. "I will never understand why God allows such suffering."
Her son said, "Maybe it's to give us the chance to help."
At that moment she understood what Ohel is all about.