IRAN
Jewish Life In Persia
On Exhibit In L.A.
STORY AND PHOTOS BY TIM BOXER
IGHT and Shadows: The Story of Iranian Jews, an exhibition of the history and contemporary life of the Jews of Iran, is at the Fowler Museum at the University of California/Los Angeles, 308 Charles E. Young Drive North, through March 10, 2013. The story unfolds over 2,700 years, beginning with the first Jews exiled from Jerusalem by the Babylonians.
This in-depth portrait of Iranian Jewry originated at Beit Hatfutsot/The Museum of the Jewish People on the Tel Aviv University campus.
I had an opportunity to investigate Jewish life in Iran four years ago, thanks to Thomas Steinmetz, chairman of the International Council of Tourism Partners (ICTP) and publisher of eTurboNews. He invited me to join him to the first International Tour Operators Convention in Tehran in 2008. The convention was organized by the Iran Cultural Heritage, Handicrafts and Tourism Organization (ICHTO) to showcase the countryís tourism potentials, which I found vast and magnificent.
Keynote speaker Esfandyar Rahim Mashaee, vice president of Iran and president of ICHTO, applauded the advancement of tourism for the sake of global security, which he maintained is more important than culture. Actually he considered the development of tourism a strategic matter.
"Iran is ready to serve, to help love and friendship materialize," he declared. "We are ready to sacrifice ourselves for that noble goal. We think of nothing but peace and friendship, dialogue, interaction and the exchange of opinion."
Mashaee, President Mahmoud Ahmadinejadís closest adviser, exhorted the global gathering of travel agents and tour operators to carry his message back to their countries: "Iranís name is associated with love, peace and friendship."
From the Convention Center I embarked on a personal detour. I asked my guide and his driver to take me to the office of the Tehran Jewish Committee, the official organization that oversees the Jewish community. The head of its cultural committee is a young man named, Farhad Aframian. I asked my guide to leave the office and wait for me in the car (so as not to intimidate by his presence).
Aframian said of the 20,000 Jews in the country, about 8,000 live in the capital. The rest are concentrated in the ancient cities of Shiraz and Isfahan.
Speaking flawless English, Aframian insisted thereís no anti-Semitism in Iran. The Jews maintain cordial relations as long as they donít have any communication with Israel or espouse Zionist feelings.
He gave me a booklet, in English and Farsi, that describes Jewish life in the Islamic republic. The Tehran Jewish Committee supervises kosher facilities in restaurants and meat markets. It maintains three cemeteries. Graves include Jews from Poland who found asylum in Iran during the Holocaust.
The booklet also states that, although many Jews fled following the 1979 Islamic revolution, the welfare and security of Jewish citizens continue "at a somewhat desirable level." Jewish authorities view "humiliations" from the mass media as a result of "actions of political Zionism and the regime of Israel." The Jewish Committee responds to attacks on Iranian Jews by affirming its separation from Zionist causes and protesting against crimes of Israeli regime and violation of human rights by this regime."
It is noteworthy that the Tehran Jewish Committee operates "under supervision of the Ministry of Interior, and Ministry of Cultural and Islamic Guidance and Endowments Organization," as the booklet puts it.
As the Tehran Jewish Committee avoids any connection with Israel, members rely on their own resources for communal needs. "We publish our own siddur [prayer book], and import from France a knife for kosher slaughtering, tallit, tefilin and mezuzas," Aframian said. There are six kosher butchers, one kosher restaurant, a Jewish library, and two Jewish day schools, one for girls and one for boys. "Jews serve freely in the army for 18 months after high school," he said. Many Jews have relatives in the U.S.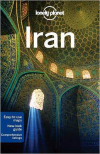 Resources Lonely Planet: Iran (paper, 376 pages, $26.99, Amazon.com Price: $19.70) is packed with countless maps so you canít get lost in this exotic fascinating land. This new edition has been revised and updated and refined tremendously.

Aframian gave me the address of the prominent Abrishami Synagogue but my driver and guide both were unable to find the street. We asked directions from the traffic cop at a busy intersection. He smiled at the American visitor in the car, posed for a picture, and pointed us in the right direction.

We arrived at the synagogue and adjoining day school just as the students were coming out of class. They were quite surprised to encounter an American at a time when banners on street poles were proclaiming "Death to America" and "Death to Israel."

The kids spoke English, and one was kind enough to escort me into the synagogue. It was just before the afternoon mincha service. Two elderly men were waiting for a minyan of worshipers.

At a wooden table facing the ark, five young businessmen were engrossed in the Talmud. The group meets after work for daily study.

We also went to the Yousef Abad Synagogue but found it closed. My guide called the watchman, Rachmat Shamsion, who kindly came to unlock the door for our visit. Shamsion is a retired boutique owner who lives close by and volunteers to help the congregation. He doesnít speak English so my guide interpreted. Shamsion said his daughter Devora lives in New York. Her husband, Mehrzode Gamze Lítova is a filmmaker in Brooklyn.

On a subsequent trip to Israel I contributed digital images of Tehran synagogues to the Beit Hatfutsot/Museum of the Jewish People for the permanent collection of their Visual Documentation Center.